Phoenix Paper Wasp Control Guide
Part 2 of our wasp control series
.
Getting rid of the paper wasp can be dangerous, especially in Arizona because of the environment.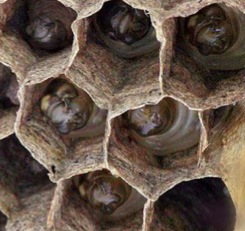 pest control, do it yourself
Please read the tips given in our wasp control page for basics on the immediate threat of wasps (it also applies to bees) and how to cautiously deal with them.
So what do you do if you've found wasps around your property?
Well, you could call Atomic, but here are some pest control do it yourself tips to help you along the way. And please be careful.
Don't forget to call us if you have any questions or run into any problems...
Wasp Pest Control Removal and Chemicals.
Pest control chemicals are usually as a last resort, they are mostly used during winter because the winter hard freeze chases off most pests. The most important factor to remember is that they will return to theirs home, the wasp nest.
We recommend you do your own pest control at dusk or after dusk when most of the wasps will have returned to the wasp nest. This will help you avoid being stung. You can do this during the day but you'll have to wear protective equipment like coveralls, gloves, hat, bee veil, etc., You can also wear these at night for more protection.
Choosing the right pest control chemicals
Look for wasp stopper compounds (also called wasp freeze). These contain solvents that are highly volatile but you can accomplish almost instant results, don't be surprised if you see them instantly knocked down after the first hit.
But remember, these pest control chemicals are very powerful.
Approach the hornet, bee, or wasp nest and spray with sweeping motion; after a few seconds. Make sure you stay alert and judge correctly the next step;
Direct the sweeping motion stream into the entrance hole, usually at the bottom. This method ensures that you kill the guards first then the guards inside, then the rest.
The larvae and eggs take about two days to die but the nest can be removed before then, if done carefully.
Hard to Reach Wasp Nest
Bee control, hornet control and wasp control will often involve removing nests (mainly wasp nest) from hard to get to places.
Wasps will often build the nest above windows, in trees, tall buildings, etc., they use this method for protection. The good news is that most insecticides come in pressurized containers and can spray a steady stream (can reach up to 15 to 20 feet), that, in most cases, is more than enough to do the job.
Out of the thousands of products out there that could do the job we have listed here some of the ones we have found to be most effective. We will continue to update this list bringing you the best products the professional and certified experts at Atomic Pest Control use on a daily basis.
Best Paper Wasp Pest Control Chemicals
Baytex - diazinon, allethrin, fenthion
Prelude - permethrin
Command CS, Command Pestab - lambda-cyhalothrin
Conquer - fenvalerate
Orthene - acephate
Tempo - cyfluthrin
Dursban - chlorpyrifos
Demon, Cynoff - cypermethrin
Suspend SC - deltamethrin
Very important!! Please read the instructions on the label thoroughly.
People who are allergic and/or sensitive to a wasp sting should not be performing any of the paper wasp control methods described here. A reputable, licensed, and experienced pest and wasp control professional should be called at this point.