Little Black Ants. Do Your Own Ant Pest Control Or Just Call Us

Little black ants are shiny and jet black measuring about 1/15 inches long.

They usually make their nests in open areas outside or in wood work, rotten wood, and masonry of buildings throughout the United States.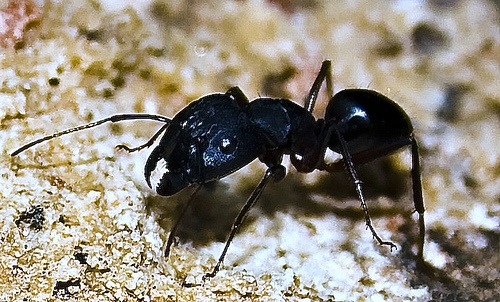 Pest and Ant Control
Feeding mostly on plants, they are no strangers to invading homes and feeding on sweets, meats, bread crumbs, grease, fruits and vegetables.
Ant Pest Control
Their ant colonies normally are not numerous when in and around buildings. They can normally be controlled using minimal insecticide applications and/or utilizing baits.
Surveys need to be done inside and outside in order to locate all nests in or near the home or business. If an outdoor colony, it can be treated with residual insecticide; drench the nest site using a compressed sprayer.
Nests in walls and other voids are easily treated by injecting aerosol solution through the cracks and crevices and around base boards. If you are unable to get to the nests, toxic baits are effective if you place them on foraging trails.
Prevent ants from invading your property by removing all liter, objects, etc. under which any ant can make a nest; be sure and seal any cracks in exterior walls where ants can enter. For more information about the little black ant pest control please contact us...
Advise From Atomic
Say you are trying to implement a pest control ant program of your own.
Our website provides extensive tips and techniques to help you along the way, so don't forget to visit often and follow us on Facebook and Twitter, and of course sign up for our free e-Zine to learn more about our ant control services,ant control products, natural ant control facts, natural home ant control, and other pests information.
If you need more information or have a problem with any type of ants please call us and one of our professionals (black ant pest control is their specialty) will answer any question you may have or send an ant exterminator to assist you.
NOTE: We have some of the most qualified ant extermination professionals in the field and can be dispatched all over the State of Arizona although we are based in beautiful Scottsdale.