Have Odorous House Ants Got Your Home Stinky Enough?
Odorous house ants are brownish to black in color and about 1/12-1/8 inch in length.
They are a very common household pest throughout the U.S. if not the most common, being as they are a native species throughout the United States from border to border and coast to coast, don't be surprised if you find them in your home.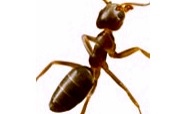 Odorous Ants Pest Removal
They are able to adapt to their environment very quickly and easily which allows them to establish nests and reproduce in diverse climates including beaches, open lands, woodlands, homes, bogs, etc..
Be careful not to confuse them with the Argentine Ant, which can be characterized by their darker color. However both types of ants have about the same diet and eating habits (feed on honeydew and other sweet foods).
Odorous ants stink pretty bad if they happen to be crushed. Eww!!
Their Nests Are Found Inside and Outside of Homes
Nests include
under floorboards
wood
walls
soil and beneath any object
stones
logs
concrete blocks
fallen limbs
stumps
plant cavities
bark of logs
refuse piles
mulch in flower beds
nests of birds and animals
Keep in mind that their nests are not well structured.
Multiplication happens when there is one or more fertile female ants, accompanied by many workers leaving the parent colony; they will most often find a new nest which results in a new colony of ants.
Ant Pest Controls and Management
Inspect your home or business inside and out to locate all nests.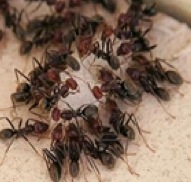 Odorous House Ants Removal
Colonies of this odorous house ant that live indoors can usually be found in wall voids.
Treat these by injecting an aerosol or dust insecticide into the cracks and around cabinets, door frames, baseboards, and around electrical switches and plugs.
For colonies living outside, drench them with a residual insecticide.
If numerous odorous ants appear around your building foundation and its perimeter go ahead and treatment them with a residual insecticide which may repel foraging ant workers and will very well prevent them from re-infesting the structure of your home or business. Many different ant control products can also be used.
If you are unable to reach the nest because it just is not accessible you can bait them with a sugar based attractant or protein.
Advise From Atomic
Say you are trying to implement a pest control ant program of your own.
Our website provides extensive tips and techniques to help you along the way, so don't forget to visit often and follow us on Facebook and Twitter, and of course sign up for our free e-Zine to learn more about our ant control services, natural ant control facts, and other pests information.
If you need more information or have a problem with any type of ants please call us and one of our professionals (ant pest control is their specialty) will answer any question you may have or send an ant exterminator to assist you.
NOTE: We have some of the most qualified ant extermination professionals in the field and can be dispatched all over the State of Arizona although we are based in beautiful Scottsdale.