Fire Ants Can Get Any Part of Your Body On Fire With A Simple Sting
Description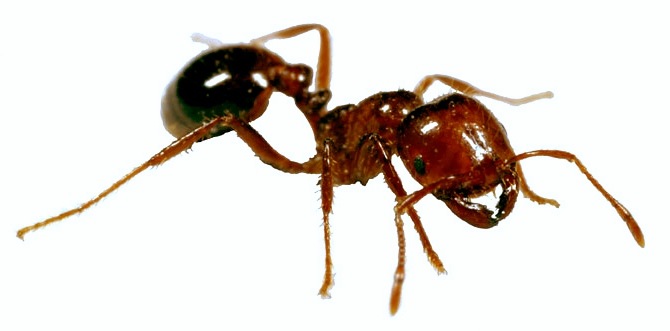 Pest Ant Control
Fire Ants are named after their powerful stinger which injects venom into a victim creating an intense irritation and swelling.
They are small-reddish to brown ants imported from South America.
You need to know that this ant is very aggressive towards young wildlife and humans despite the fact that the ant is very small (can grow to be 1/4 inch)
Small Army of Thousands of Dangerous Ants
Don't disturb a fire ant mound or you'll find hundreds of worker ants boil right up to the surface, run up the first leg, arms, etc. they find; grab or bite the victim's skin in/with their mandibles and simultaneously sting at the other end with their powerful stinger in response to any and the slightest possible movement.
These attacks are perfectly coordinated and synchronized in between dozens or hundreds of worker ants in perfect sting unison.
You need to know that this ant is very aggressive towards young wildlife and humans despite the fact that the ant is very small
Duis aute irure dolor in reprehenderit in voluptate velit esse cillum dolore eu fugiat nulla pariatur. Excepteur sint occaecat cupidatat non proident, sunt in culpa qui officia deserunt mollit anim id est laborum.
The worst part is the sting.
Their sting injects a very powerful alkaloid / necrotising venom when they attack which results in a highly itchy, painful, and persistent pustules; some people are allergic to this type of venom which creates in them a severe reaction.
5,000,000 (that's "five million") people get stung every year in the southeastern part of the United States alone; 25,000 of which go to the doctor for treatment. Stings from these ants definitely create many health problems for humans.
The venom's high concentration of toxins causes intense burning and itching that lasts for at least an hour, then is followed by a blister which later becomes a white pustule. If broken and/or scratched the pustule will usually result in a secondary bacterial infection and perhaps permanent scars (dozens of them).
People with allergic reactions should be extremely careful when dealing with this ant as the venom can cause anaphylactic shock and even death.
Where You find them
Nest mounds are between 4 and 24 inches tall with no visible entrance on the surface. Instead the entrance to the mound are through a subterranean tunnel(s) that sort of spoke out from the central mound.
This is what makes them different from other ant mounds which rarely exceed 1 inch or 2 in height; also, fire mounds have a freshly tilled appearance to them which is more noticeable after a rain.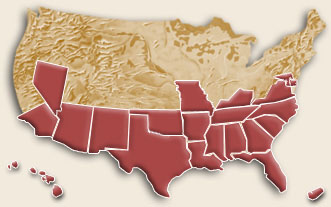 Dangerous Fire Ant in the United States
Colonies are commonly found in roadsides, under houses, house boards, grass, concrete cracks, soil, woodwork, gardens, lawns, parks, school yards, golf courses, etc., The nests are often found in sunny, open, and irrigated soil areas.
Fire ant's preferred food consists of rich protein sources such as seeds and insects.
Ant Control
Fire ant colonies are extremely, extremely destructive; Think of them as a small over the top aggressive, dominating and conquering army.
Wherever they go, they dominate and since it is very hard to stop them they seem to easily create a lack of natural enemies which results in population booms in any area they invade.
Fire ants cost the United States billions of dollars a year (in damage alone) to its agricultural crops, equipment, wildlife, livestock, public health, and electrical equipment such as air conditioners (don't be surprised if you often find them here), traffic signal boxes, computers, electrical units, utility units, telephone junctions, airport landing lights, electric pumps for oil and water wells, and even car electrical systems.
Ant Control methods really get costly if not dealt with soon. in the United States there are six very well known species of these ants (just in Arizona there are three of them). Southern fire ant (or S. xyloni), and two other desert fire ant species (scientifically called S. amblychila and S. aurea).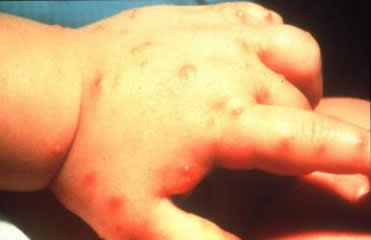 Ant Sting
Since this ant abounds in Arizona the Department of Agriculture has been conducting surveys and other such studies to learn how best to control them.
Most of these studies suggest once this ant has established itself in an area, the chances of getting rid of fire ants are slim at best and at the same time control becomes the primary or only means of fighting its spreading.
It is therefore vital that we prevent the spread of this species in the state of Arizona.
If detected, citizens need to contact the Arizona Department of Agriculture for confirmation, control or eradication; but because eradication or extermination methods are very complex and dangerous they need to be conducted by trained individuals.
Atomic has the best trained and certified personnel not only in Phoenix, Scottsdale, Mesa and throughout the valley of the Sun but in the State of Arizona also.
Please call us before they get out of hand.
Advise From Atomic
Say you are trying to implement a pest control ant program of your own.
Our website provides extensive tips and techniques to help you along the way, so don't forget to visit often and follow us on Facebook and Twitter, and of course sign up for our free e-Zine to learn more about our ant control services, natural ant control, natural home ant control, ant pest controls methods, ant control products, household ant control, natural ant control facts, and other pests information.
If you need more information or have a problem with any type of ant please call us and one of our professionals (ant pest control is their specialty) will answer any question you may have or send an ant exterminator to assist you.
NOTE: We have some of the most qualified ant extermination professionals in the field and can be dispatched all over the State of Arizona although we are based in beautiful Scottsdale.