Keep Your Fields Johnson Grass Weed Free
Weed Control Guide Series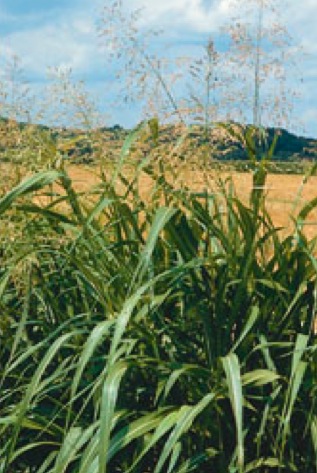 Johnsongrass Weed Control
Johnson Grass is one of the most abundant and vicious weeds throughout the United States.
It thrives in open, disturbed, rich, bottom ground, mainly in cultivated fields.
In Arizona, it is found along irrigation ditches, streams, and in any kind of moist waste area. Unless it is constantly controlled.
Johnsongrass has the ability to completely take over agricultural lands. This weed can grow as tall as 8 feet tall, not including the stem which may reach 2 1Ú2 feet deep in the dirt.
It can produce more than 80,000 seeds in a single season. The seeds easily fall to the ground and fall underneath the weed that produced them.
It begins flowering at the beginning of April and continues through November.
Johnsongrass is a very common weed throughout the warmer parts of the United States. First appeared in the southern states before the 1840's and was know by many names, some are Guinea grass, Means grass, and bankruptcy grass.
First documented in the state of Arizona in 1890 and was introduced as a hay or forage crop.
Johnson Grass Control Information
Belongs to the Poaceae Family
Origins:

Johnsongrass is a weed native to the Mediterranean.

Johnson Grass

Weed Characteristics:

Cycle of Life: Its seeds are dispersed by water, wind, wildlife (mostly birds), livestock, and contaminated crops, and machinery (such as vehicles). One plant is capable of producing up to 80,000 seeds and 17.6 lbs of rhizomes in one growing season.

Appearance:

Coarse looking perennial type grass. Stalks usually reach from 1.5 to over 6.5 feet tall. Bright and long green leaves provide leafy appearance and purplish.

Habitat and Environment:

This weed mostly grows in disturbed areas (cultivated fields), along irrigating canals, open ground, and bottomlands. It can adapt to wide range of soil types (it prefers porous), fertile soils but thrives in warm, subtropical, humid environments with summer rainfall.
Johnson Grass Control Measures
Mechanical and Hand: Manual removal, including the rhizomous root, is recommended to be done often. Tilling, mowing, heavy grazing, and plowing are effective control measures.
Chemical: We use approved pest control products during our operation.
Advise From Atomic On All Weeds
We are delighted to be able to serve your home or business in providing great services such as weed control in flower beds, weed control in lawns and much more.
Say you are trying to implement a vegetable garden weed control program of your own;
Our website provides extensive tips and techniques to help you along the way, so don't forget to visit often and follow us on Facebook and Twitter, and of course sign up for our free e-Zine and learn more about our weed control services, weed control facts, and other pests information.
If you need more information or have a problem with any type of weed please call us and one of our professionals (weed control is their specialty) will answer any question you may have or send a bee exterminator to assist you.
NOTE: We have some of the most qualified weed exterminators in the field and can be dispatched all over the State of Arizona although we are based in beautiful Scottsdale.